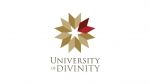 Eva Burrows College shares in The University of Divinity's long tradition of research excellence. The University produces world-class research in all theological disciplines. Eva Burrows College actively fosters a vibrant research culture through research projects, publications, conferences, and seminars.
Students who meet the entry requirements may enrol in our higher degrees by research (HDRs). Prospective HDR students may enrol in a research methodology unit or in the Graduate Certificate in Research Methodology (GCRM) which includes a 16,000 word Minor Thesis in order to prepare for their research project.
Higher Degrees by Research
Master of Philosophy (MPhil) The Master of Philosophy is a higher degree by research in divinity or one or more of its associated disciplines and is designed for individuals who bring a foundation within this disciplinary range. The purpose of the Master of Philosophy is to qualify individuals to apply an advanced body of knowledge in divinity or one or more of its associated disciplines in a range of contexts and to provide a pathway for possible further learning. Please refer to the website for study load and admission criteria.
Doctor of Philosophy (PhD) The Doctor of Philosophy is a higher degree by research in divinity or one or more of its associated disciplines. The purpose of the Doctor of Philosophy is to qualify individuals who apply a substantial body of knowledge to research, investigate and develop new knowledge in one or more areas of investigation, scholarship or professional practice. PhD candidates present their research in a thesis of no more than 100,000 words that is examined by at least two external examiners. All candidates must attend a minimum of eight hours of research seminars each year at the University and either a University Research Day or a research conference each year.
Research Supervision
Supervision available in;
Biblical Studies
History
Humanities
Languages
Philosophy
Religious Studies
Systematic Theology
Theology: Ministry and Mission
Supervisors
Research at Eva Burrows College is facilitated, supported and enriched by our experienced qualified team of Supervisors.
Areas of Specialisation

Wesley Studies

Methodist History

History of Evangelicalism

Eighteenth-century Religion and Politics

Australian Religious History

The Trinity and the Doctrine of Sanctification

Areas of Specialisation

Pastoral Ministry

Pastoral care

Clergy well-being

Spiritual resilience

Team Ministry




 

Areas of Specialisation

Biblical Theology

Biblical Studies

Synoptic Gospels

Gospel of Mark

Post-structuralist hermeneutics

Holiness and Purity in the Ancient World and the Bible
 
Matthew Seaman
 

Areas of Specialisation

Philosophical theology

Christology

Epistemology

Metaphysics

The relationship between science and theology

 
 
"Engaging in research projects has enabled me to go deeper into issues that I am passionate about and to generate new insights and learning that have been helpful. My passion is for those who are engaged in ministry to thrive and sustain their holistic well-being. I have been able to delve deeper into this topic through exploring the pastoral care services provided to officers by The Salvation Army. An outcome from this research was the opportunity to present findings and recommendations to the Policy Council with the development of a policy on supervision and spiritual direction.

Investigating how clergy have developed spiritual resilience and thrived in ministry has also been of benefit. The findings from this research have informed my teaching and personal life. There have been opportunities to share the themes that emerged from this research with officers and ministry workers at their regular residential reviews, with a summary being shared with some of those in leadership in the organisation. For me the benefit of research is about learning and discovering new insights and for these insights to inform practice."

Major Dr Christine Unicomb

 
      .