"The Learning and Development team creates opportunities to build capacity and capability in all our people, and works to establish a strong learning culture to see our mission and vision realised."
Building capacity and capability
The Learning and Development Stream focuses on the ongoing learning and professional development needs of The Salvation Army officers, employees and volunteers. Our understanding and knowledge of the Army's mission, values and strategy enables us to develop tailored learning solutions to address national and local priorities and ensures that our learning solutions are current, relevant and equip people effectively.
70:20:10 Learning
We adopt a '70:20:10' approach to development that focuses on three key methods of learning:
70:  Experience: learning and developing through day-to-day tasks, challenges and practice
20:  Relationships: learning and developing with and through others
10:  Education: learning and developing through structured modules, courses and programs
Whilst the ratios are not necessarily exact, the premise is that formal training typically plays a relatively small part in how people develop their capability. The bulk of learning comes through on-the-job experience and reflection – the 'learn by doing', whilst a significant amount also comes from connections with others through activities such as peer learning, coaching, mentoring etc.
Together we will partner with you to develop learning solutions that encompass all of these areas, and we can provide resources and advice to help individuals adopt a range of learning activities under all three categories to help build on existing levels of capability.
Why engage with us?
The Learning and Development team offers a wide range of support and solutions for you and/or your teams, as captured in the model below. We start with your strategy, help you to define your learning needs and priorities and then source appropriate solutions.
Your local Learning Partner can work with you to understand your priorities, identify the capability needs of your department, division, or team and identify, source and/or develop relevant and effective solutions.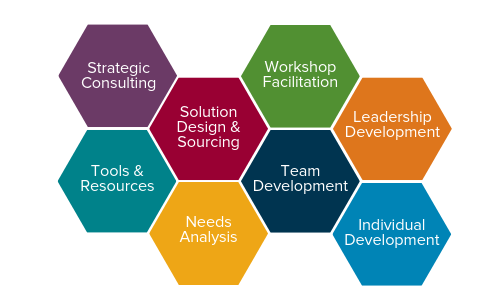 How to contact us?
To engage with the Learning and Development Team or the broader College about your capacity and capability needs, contact your local Learning Partner directly or message us with your Learning and Development enquiry. 
"We had the privilege of sitting under the ministry of Matt Kay as he facilitated a workshop for our area on "Conversations that Matter". It is obvious that Matt has a clear grasp of the material he presents and the ability to engage easily with People, because of this our group was comfortable and confident to share some of their own experiences and reflect personally on the tools given that will help them have those difficult conversations in the future.  Matt has an easy way of communicating, with personal experience that helps people feel relaxed and willing to share.  We received a lot of positive feedback from this workshop and will certainly plan to ask Matt to do another one for us."

Major Sharon Clanfield, 

Area Officer - Brisbane City, North and Sunshine Coast