The Capability Framework provides Learning and Development with the consistent foundation for assessing capability and capacity and linking that assessment to specific, targeted and measurable learning pathways and solutions.
The TSA National Capability & Competency Framework is a tool that builds on our organisational values to identify the skills, knowledge, behaviours and attributes needed by the people working across The Salvation Army. It consists of multiple components – or matrices – covering both capabilities (attributes and behaviours) and competencies (skills and knowledge).
A key component of the Framework is the Capability Matrix, which sets out leadership and other critical capabilities (behaviours) in an easy to read format that uses a consistent language and methodology to explain how we can express and develop these through whole of organisation behaviours – covering Influencing, Leadership, Ministry and Culture – so that we can realise our mission and work towards the vision of The Salvation Army.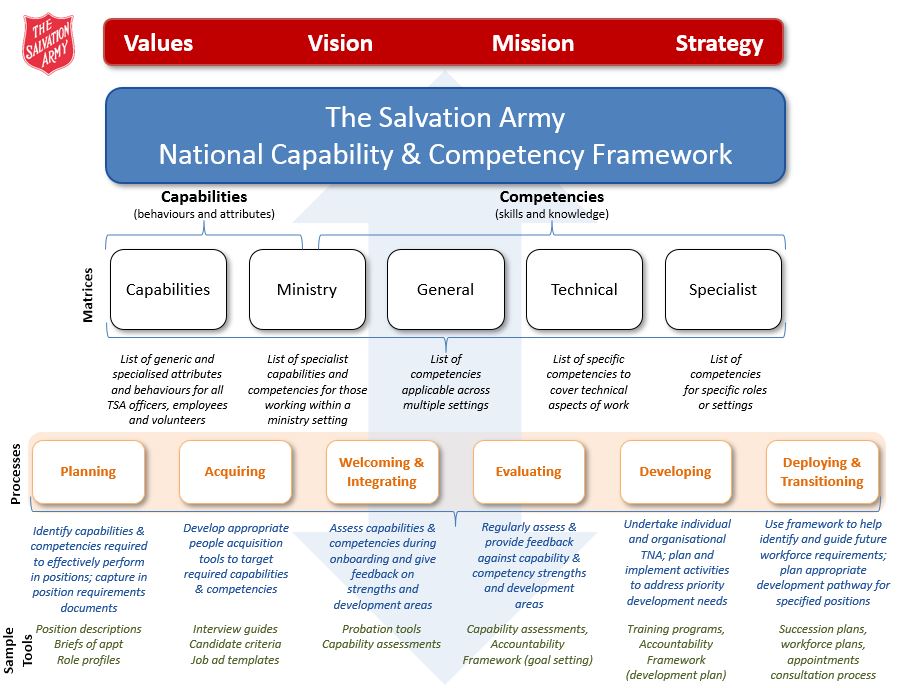 The Framework is also able to incorporate specialist competencies that are relevant to specific settings, functions or job roles; as well as competencies covering a range of general technical and professional skills. Two Competency Matrices currently incorporated into the framework include Social and Community Services Matrix and the Aboriginal and Torres Strait Islander Matrix. Other competency matrices are in development and will be added over time.
The overall Framework provides the basis for a range of people-related activities that will assist you in determining what a role should look like, recruiting the best people for the job, supporting people to be the best that they can be, and determining important areas for ongoing professional development, learning, education and training. It is a key people reference tool that we can all use.
Work is continuing on the development and implementation of the National Capability Framework. Contact your local Learning Partner or HR Business Partner for further information.
You can also find more information in the Introductory Handbook.
---