"One of the big factors of leadership is to exude inspiration so that people want to follow. It's a terrible thing when a leader looks behind and there's no one coming," General Eva Burrows.
Whether you are new to a leadership or a seasoned manager we have a range of learning resources and higher education and vocational courses to help you build your leadership confidence and skills. 
Below is a guide to help you discover the best leadership resources and courses for you.
New to Leadership?
We suggest you explore enrolling in one of the accredited online Leadership and Management Vocational Courses available at Eva Burrows College.
Want to develop your leadership skills further?
Consider the Higher Education Leadership Specialisation as a Graduate Certificate Award.
Looking to develop you and your team?
Contact our Learning and Development Team to discover the tools and resources available.
For all leadership resources and courses offered at Eva Burrows College scroll down and discover learning tools that will help you implement strategy, imagine new possibilities, achieve deliverables and build a better organisation as a leader.
---
Vocational Courses
Eva Burrows College Vocational Training is accredited to deliver training services that focus on providing practical skills for your career. We offer the following online courses in Leadership and Management.
Suitable for individuals working as developing and emerging leadership and managers in a range of enterprise and industry contexts. It is a perfect qualification for people who find themselves in a supervisory role without any formal training in management or supervision.
Be equipped to lead with confidence. Succeed in your goals with skills and practical techniques to lead and support your team, build workplace relationships, solve problems and manage projects.
Course Coordinator
Katerina Georgiadis
P: 61+ 2 9502 5008
---
Higher Education
If you undertake studies in higher education you are a student of the University of Divinity and join one of eleven colleges of different faith traditions, gaining access to units and services across all eleven colleges.
This series of units focuses on the spirituality of organisations and their ability to integrate spirituality with leadership and organisational transformation. if you are in leadership or are an aspiring leader, this specialisation will equip you for your future in leadership.
Leadership specialisation units may be taken as part of an undergraduate or postgraduate award - including as a Graduate Certificate in Divinity (completion of 3 units required), or if you prefer as an auditing student (not for university credit). Your study options are flexible.
To learn more contact the Registrar.

Registrar
Norman Aquino
P: 61+ 3 9847 5432
---
Leadership Resources
If you need help to discover how to build capacity and capability for you and your team the Learning and Development Team are here to assist you in discovering the right leadership tool for your needs. These can range from nationally recognised courses to professional development courses. These resources can be delivered at your location and be worked around a time that is suitable to you.
Leadership Services we can provide;
Strategic Consulting
Leadership Development
Team Development
Leadership Tools and Resources
Contact your state-based Learning Partner to learn more.
NSW/ACT

Matt Kay

M: 0437 764 409

QLD

Andrea Deighton

M: 0400 870 069

SA

Philip Clark (interim)

M: 0455 448 875

VIC

Josie Bruzzese

M: 0457 597 963

WA

Jane Purvis

M: 0439 144 598

 

 

 

 

 
---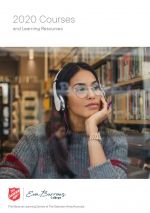 Drawing from our cutting-edge Salvation Army experience, Eva Burrows College exists to encourage and empower you for life, mission, and service through our nationally recognised and accredited courses. Whether your passion is to lead a team, serve the community you live in, or share the Gospel of Jesus Christ we can provide a comprehensive learning pathway that integrates practical experience with formal qualifications.
To learn more about all the courses on offer view our 2020 Course Guide here.