Semester 1 Admission Date Closes
Date: Admissions for Semester 1 close 12 February 2021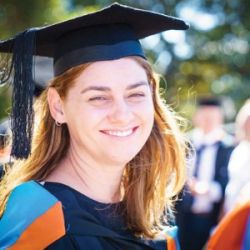 If you are a new Higher Education student or you are looking to begin a new course, you will need to apply for admission into the course of study. Eva Burrows College delivers higher education awards as a college of the University of Divinity. Admissions for Domestic Students, first semester 2021 close on Friday 12 February 2021.
How to Apply
1. Start the Admission Process
If you are looking to apply to the College and would like us to help guide you through the process and identify the right course for you, please fill out the following Enquiry Form and our Registrar will be in contact via email or phone to discuss the options available to you. Once you have identified the right course for you, it's now time to fill out an Admission Form.
2. Complete an Admission Form
Select the form applicable to your admission. Note, these links will take you to a Word Document to be completed and returned to the Registrar at least two weeks prior to the Semester commencement.
All undergraduate and postgraduate students need to ensure they re-enrol in their course. For both current domestic and overseas students, please complete the following form below and return to the Registrar two weeks prior to the Semester commencement.
How to complete these forms
In the first instance, contact the Registrar (step 1) to discuss your study program. Once you have discussed your study options, the Registrar can assist you with the completion of your Admission Form. For more information for completing your Admission Form, refer to the University of Divinity Guide to Completing and Submitting Admission Forms.
3. Submit your Admission Form
For all new students, after we have received your Admission Form it is a requirement for you to attend an Admissions Interview with our Academic Advisor at the College. The interview may be conducted by telephone, email, or similar means if you are unable to travel to our Ringwood Campus in Victoria. The purpose of the interview is to ensure you have the right course for you, to confirm you meet the admission requirements, and to plan a program of study appropriate to your needs.
After the interview, you will need to finalise your application, together with any outstanding certified documentation and payment of tuition fees.
For all existing students, you will receive an email to confirm your enrolment in your units of study.
4. What happens after you finalise your enrolment?
If your application is accepted, you will receive confirmation of your enrolment from the University of Divinity and an online Welcome Pack from Eva Burrows College with the information you need to get started.
Thanks for choosing our college for your tertiary studies and we look forward to assisting you with your admission process and your studies here at the national learning centre of The Salvation Army Australia, Eva Burrows College.
---
For further assistance
Visit our FAQs page or contact the Registrar on +61 3 9847 5400 or via email registrar@ebc.edu.au
Eva Burrows College is a college of the University of Divinity. CRICOS Provider Code 01037A. Australia's first and only specialist university offering degrees in theology. We deliver the University of Divinity's undergraduate and postgraduate awards. The University of Divinity is an ecumenical institution with over a hundred years of experience pursuing the highest standards of scholarship in theology, philosophy, and ministry. Our aim is to produce graduates who are ready to contribute to the church and community through rigorous application of knowledge and skills in the rapidly changing context of our world.
Learn More:
https://evaburrowscollege.edu.au/students/enrolment/higher-education-enrolment/