23 May 2022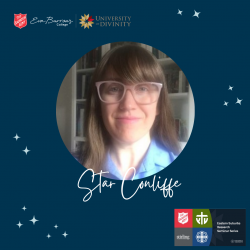 Eva Burrows College is a partner in the Eastern Suburbs Research Seminars Series (ESRSS), which is a great opportunity for our HDR (Higher Degree by Research) and Minor Thesis Students to hear about research being undertaken throughout the University of Divinity and also to present their research by being one of the presenters at a seminar.
At the last ESRSS, EBC student Star Conliffe was one of the presenters. Star is completing a minor thesis called Bearing Witness: The Experiences of Officer Women Caring for Family and Domestic Violence Survivors in their congregations.
Star's research looks at how pastorally caring for persons in their congregation who are experiencing family and domestic violence effects the well-being, theology and ministry practice of Officer women. It also aims to build a picture of the context within which this is happening by asking how often Officer women in Australia receive disclosures of FDV from their congregants, and whether they feel adequately equipped and supported in navigating this complex pastoral issue.
Well done Star on a great presentation! ⭐️