Inspiring Women of Eva Burrows College
3 March 2022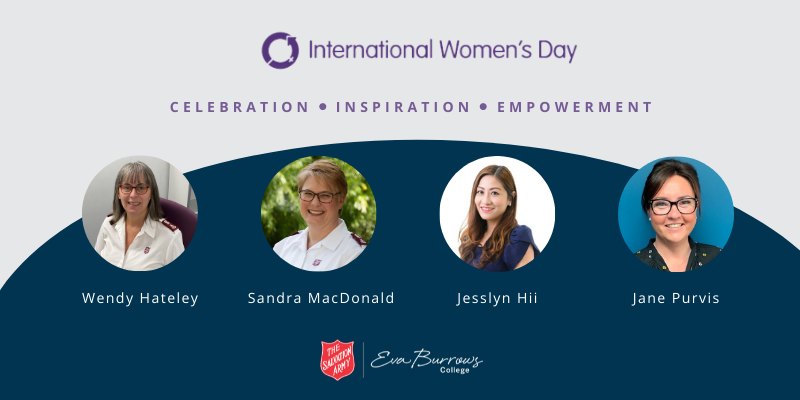 This week as we celebrate International Women's Day, we want to acknowledge the achievements of women around our community at Eva Burrows College. We spoke to a few women leaders about their journeys to date, challenges faced, where they find joy and goals for the future. Read more below.
---
Major Wendy Hateley
Recent EBC graduate and The Salvation Army Public Relations Secretary, ACT
Tell us a little about yourself, and what does your role involve?
My name is Wendy, and I have been a Salvation Army Officer for over 28 years.  I have served in 5 states/territories across Australia and also had a role with a national focus for a period of time. Right now, I am the Public Relations Secretary for ACT.  This involves fundraising within community (including the annual Red Shield Appeal and launch), media relations, ACT Government relations, working with corps to help them with fundraising, and brand awareness.
How did you get to this point?  What were some of the key decisions that brought you here?
As a Salvation Army Officer I am appointed to roles rather than choosing my own next-step, but each of my roles has built upon my previous experience to bring me to this point.  All of my Corps Officer Experience certainly has helped with developing and implementing my skills in fundraising, the Red Shield Appeal, and even with government relations and media.
How has your previous studies with EBC helped you with your career?
As a person in leadership, managing an office and a team of people, it has been good to pick up some new knowledge and skills through the Diploma of Leadership and Management.
What would be a key for people in your circles, and in the wider Australian culture, to 'break the bias'?
People need to be appreciated and chosen for roles based on what they can bring to a role, how well they can do the job and whether or not they fit the culture of an organisation – not on their gender, age, or any of the other things that so often impact people's opinions and decisions.
What sort of leader do you aspire or work to be?
I aspire to be a leader who is positive, who encourages people to be the best that they can be, and who inspires others.
Is there anyone that inspires you in your career?
I have had the privilege to work with a number of fantastic women who have inspired me.  Right back from my training placement and the great lessons I learned there, up until today where I see women who are true to themselves and their own personalities whilst still being amazing leaders!
What is the most important piece of advice you have been given?
The most important piece of advice I received was that God called me as me – He wasn't asking me to change into someone else, just to develop and grow myself.
How can we encourage more women to pursue leadership roles in their career?
If there is something you aspire to be, then do whatever you need to do to develop yourself to be able to achieve it!
What are you looking forward to in 2022?
I'm looking forward to seeing my family interstate more in 2022, making a difference in my role and my community, and being the best possible version of myself that I can be.
---
Jane Purvis
Recent EBC graduate and Learning Partner NT/SA/WA
Tell us a little about yourself, and what does your role involve?
I have worked for TSA for 9 years having emigrated from the UK to Perth WA back in 2012. I started my journey with EPlus as a trainer where I met some wonderful people who helped me settle into the Australian way of life! I have been in my current role as Learning Partner SA/NT & WA for 3 years. I get the opportunity to partner with some amazing leaders to develop and deliver learning solutions that build capacity and capability in all our people. I enjoy visiting and spending time with our front-line staff to learn from them, offer my support to see our mission and vision realised.
How did you get to this point?  What were some of the key decisions that brought you here?
When The Salvation Army became one National Territory I couldn't miss out on the unique opportunity to be a part of something so significant. Helping to establish a healthy learning culture across the whole of the organisation. I was excited yet nervous, but who wouldn't want to be part of that type of legacy? My role here in WA has enabled me to create a greater impact and make learning and development more assessable to everyone within the organisation.
How has your previous studies with EBC helped you with your career?
Completing my Diploma in Leadership and Management via EBC has equipped me as a learning partner with the knowledge and tools required to better support other leaders and managers wanting to grow and develop in this area. It has enhanced my overall skillset; covering new topics such as budgets and workforce planning. Overall, my confidence has considerably improved when consulting with senior leaders. Completing the study gave me a real sense of achievement. 
What would be a key for people in your circles, and in the wider Australian culture, to 'break the bias'?
An openness and willingness to listen, learn and apologise if/when you get it wrong. Education is a good starting point as this will help increase self-awareness.It's imperative to then take action and hold yourself accountable.
What sort of leader do you aspire or work to be?
I aspire to be a transformational leader, constantly motivating people to see what they are capable of and encouraging them to push through their comfort zone to achieve great things. Leadership can be situational; therefore, I think it is important to adapt and remain versatile whilst continuing to learn and reflect on my own practice.
Is there anyone that inspires you in your career?
Yes, far too many to list. Karen Lattouf (the Salvation Army's Leadership and Development specialist) is a great inspiration to me. She is incredible in every way. She is wise, she is courageous, she is considerate, the list goes on. What really inspires me about Karen, is her humility and vulnerability, it is extraordinary. When I'm faced with a challenge, I will often say to myself, "What would Karen do?". Spending time with her is a real joy and hope I can continue to learn from her for many more years to come!
What is the most important piece of advice you have been given?
"The standard you walk past is the standard you accept" - David Morrison.
My fabulous colleague, WA's HR Business Partner Jen Zeahner often uses this quote, constantly reminding me of its importance.
How can we encourage more women to pursue leadership roles in their career?
We need to create a culture where people value people, thus optimising human potential whereby everyone is open to strategies that support 'Conscious Inclusion.'
What are you looking forward to in 2022?
2022 brings with it another 365 days of opportunity and adventures. I look forward to some face-to-face meetings where I have an opportunity to network with my peers and friends who I have not seen in person for more than two years, I crave that face-to-face connection. I know the Learning and Development team have a big year ahead with multiple national projects that I have the privilege to be part of. Personally, I'm looking forward to knuckling down on the things I enjoy and hopefully seeing my parents!!!
---
Jesslyn Hii
Eva Burrows College Marketing Coordinator
Tell us a little bit about yourself and your current role at Eva Burrows College?
Previously working in the fast-paced advertising world in Singapore, I moved to Melbourne in 2008 and started my career in the not-for-profit sector. Over the past 14 years, I've loved using my marketing experience and skills to contribute to organisations that are making a difference.
My current role at Eva Burrows College (EBC) is to develop and implement marketing, communication and advertising strategies. On a day to day basis, I manage the EBC website and social media platforms, create and coordinate content, track results and work closely with senior leadership on communications that bring our brand and campaigns to life.
Tell me about a project or accomplishment that you consider to be the most significant in your career.
I've had some amazing opportunities that I've worked really hard for and one of the most significant achievement was being the first woman of color to be promoted to a leadership role in my previous workplace. I feel proud of my background and it's important to me that I am relatable to others and for them to see me and feel inspired to think "I can be that too."
As a woman in the marketing and communications environment, what challenges do you face within and outside the organisation? What message do you have for other female professionals?
Gender differences is a struggle all women face and generally men don't understand what women go through to be successful in business and life. As a working mother, it can be difficult balancing between work and family. I found it exceptionally hard during the past two years with my children studying at home and working full time at the same time. I am very blessed that the organization I worked with and my team members were very supportive. I re-adjusted my work hours so that I could help my children with their work during the day and in the evenings and weekends I could spend more time focusing on my work.
I think that women need to have each other's backs and be kind to each other. Self-care is also very important as we juggle all the demands of life. Surround yourself with positive people and build a support network that can allow you to shine. I like to spend time with God in the morning before starting my busy day - it helps me focus on Him rather than the circumstances I'm in.
How do you motivate yourself and stay motivated?
Baby steps! I stay motivated by setting specific goals and breaking them down into small steps. Vincent Van Gogh said, "Great things are done by a series of small things brought together." I like to write down the list of steps I need to take to make things happen and go through them one by one. Once in the flow, it's a lot easier to continue with the next task.
What's the best advice you have received? And what advice will you give to budding female leaders?
The best advice I've received was, "You've got this, I believe in you."
My advice is to trust your own talents, work hard, enjoy the journey, and don't forget to celebrate your successes!
What is your favourite bible verse that encourage you in your spiritual walk, and in your calling?
Romans 12:2 Do not conform to the pattern of this world, but be transformed by the renewing of your mind. Then you will be able to test and approve what God's will is—his good, pleasing and perfect will.
---
Major Sandy MacDonald
Eva Burrows College Lecturer and First Five Years of Officership & Aux Lt Development Coordinator
Tell us a little about yourself, and what does your role involve? 
I'm the newest person to join the Higher Ed faculty having been accredited as a lecturer late in 2021 to teach our Reflective Practice units, which are strongly aligned with Officer Formation. This teaching role is in addition to my appointment as First Five Years of Officership and Auxiliary Lieutenants Development Coordinator. I've been a Salvation Army Officer for 20 years and, before coming to Eva Burrows College, I served in both corps and youth and children's ministries in various settings – remote, regional, rural, suburban and city.   
How did you get to this point? What were some of the key decisions that brought you here? 
I'm grateful for this opportunity to step into Higher Education in this capacity. A few years ago Major Dr Christine Unicomb opened the door for me to work alongside her in a unit she was teaching and that gave me a taste. I'm grateful for people like her and others in the faculty and past faculty who believed in me and my ability to step up. 
I would have to say, though, that getting to this point has not really been something I planned. My academic studies along the way have been based on what interested me, not so much trying to set myself up for any particular role in The Salvation Army. After a substantial break from study when I focused on my family and my ministry appointments, I returned to study in 2019-2020 and hope to "level up" my qualifications again in the next few years.  
What advice would you give to another young woman who is on a similar path – or even to your younger self? 
I've never been someone who thought anything would be off-limits to me as a woman. Back in high school I remember taking an elective class where I was the only girl and also did related work experience in a male-dominated field. I've also been glad to have observed some fantastic women officers over my lifetime. 
However, I think some of that young, optimistic bravery diminished a little for me over my life. I've had times when I've felt unnoticed or undervalued by my leaders.. I'm not the only woman to go through times of self-doubt or battle with imposter syndrome. I don't begrudge taking time to prioritise my family over study as my family and ministry experiences are part of who I am as an officer and now lecturer but I sometimes also get nervous that I'm getting older and don't want to miss the boat of being able to "give back" or provide value for money for the studies I've done and intend to do. 
It's not really advice to my younger self that I feel is relevant but rather what my younger self could say to me now. These interview questions have prompted me to remind myself of that brave teenager who never considered any path out of reach and walk in the confidence of who God's made me to be 
Who have been 'cheerleaders' on your journey, and what specifically have they said or done to help you along the way? 
I know how challenging it can be to study while holding down a full-time ministry appointment, so I think that gives me some empathy for students. There was one time I needed to attend an intensive with a young baby and spent every break in class running back to my accommodation for mum duties! I am blessed to have a supportive husband who worked remotely that week and bosses who supported us to do so too. My husband has always been supportive of my desire to learn and grow, as has my wider family. 
There have also been other encouragers along the way – people who have reminded me that I have something worth offering, people who help me find my voice, people who took a risk on me, people who delivered coffee when I was writing my minor thesis and people who drew me smiley faces before emojis were a thing! 
How does the Salvation Army encourage and raise up female leaders?  
I love being part of The Salvation Army and I'm glad that women have always played a critical part. I take the point of view that we should always look for the best person for the job. If the best person for a job is too often a white male, we need to look beyond the immediate situation to see where women and people of colour may have been overlooked or disadvantaged in development, study opportunities, breadth of experience or specialisation. It's no secret that women are more likely than men to take time out of study or the workforce while raising a family or for other extended family needs, which tends to correlate with women having lower qualifications or experience of men of a similar age. Even in recent years I've heard women officers say that they've been advised to check with their husband how they will manage if she takes on extra study or ministry responsibilities. I can't imagine the reverse conversation taking place where a husband is asked to consider the burden his development opportunity might place on his wife.
I'm not convinced of the value of quotas in increasing the number female leaders but I do think The Salvation Army needs to be more active in looking out for women and other people who can be invisible, forgotten or don't quite fit the systems we have created. If we're tossing up between two people for an opportunity and one is female, then I think we need to lean towards the female, even if she is slightly less qualified than the male. We should continue to invest in women who want to study, who can then contribute to the academic arena. We need more well-educated women.
---