This 12 hours online course will teach you how to provide initial support to other adults who may be experiencing a mental health problem or mental health crisis until appropriate professional help is received or the crisis resolves, using a practical, evidence-based Action Plan.
Overview
Details
Pathways
Request Information
Duration

Completed in a 3 month period

Delivery Mode

Online

Venue

Online

Trainer(s)

Christine Pickens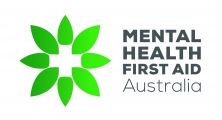 This course will equip you with knowledge and confidence to recognise and respond to a situation where a person is developing mental health problems. You will be equipped with resources to provide aid until appropriate professional treatment is received or until the crisis is resolved. 
Why enrol in the MHFA online course?
Evaluations consistently show that MHFA training is associated with improved knowledge of mental illnesses, their treatments and appropriate first aid strategies, and confidence in providing first aid to individuals with mental illness.  It is also associated with decreased stigma and an increase in help provide.
Course Structure
Eva Burrows College delivers the Online Blended MHFA course which has two key components to be completed in a 3-month period, taking approximately 12 hours to complete.
- Self-paced eLearning Program
- Instructor-led video conferencing sessions
Note: Each participant is required to have completed the eLearning program prior to attending the video conference sessions. 
Course Content
This course is based on guidelines developed through the expert consensus of people with lived experience of mental health problems and professionals. The Standard MHFA course teaches members of the public how to provide that initial support and link them to appropriate professional support.
Mental health problems covered: Depression, Anxiety, Psychosis, Substance misuse.
Mental health crises covered: Suicidal thoughts and behaviours, Non-suicidal self-injury, Panic attacks, Traumatic events, Severe psychotic states, Acute effects from alcohol or other drug use, Aggressive behaviours.
For more information
Contact christine.pickens@salvationarmy.org.au  to discuss this course.
Or to register your interest
Email helen.maerz@salvationarmy.org.au to register your interest
Eva Burrows College offers a range of nationally recognised courses in vocational training in the area of community services, financial counselling and others. 
Vocational Courses Available
For more information
P |+ 61 2 9502 5008
E | vtoenquiries@ebc.edu.au