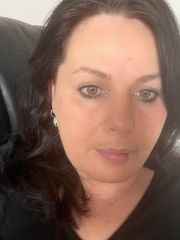 Community Services Facilitator and Assessor
Graduate Certificate in Child and Family Practice, Advanced Diploma of Disability, Advanced Diploma of Community Sector Management, Diploma of Alcohol and Other Drugs Work, Certificate IV in Training and Assessment.
---
Kim has been working in the Community Service sector for nearly 20 years and in that time has worked in a wide range of fields including Prisons, Foster Care, Family Services, Drug and Alcohol, Private Practice and more recently in schools.
She is passionate about youth and their long-term outcomes. She applies a trauma informed and strength-based lens to her work and is a leader in her field. 
Kim has led a range of successfully multi-disciplinary teams consisting of Doctors, Nurses, Chaplains, Youth Workers, Psychologist, Social Workers and Counsellors to deliver a holistic service to clients and their families. 
She is innovative, passionate, and knowledgeable and known for her development of the Doctors in School Program, the leader of Respectful Relationship and set up of Kids in Focus program in the Barwon region. 
While being an active member of the Community Service Sector, Kim is passionate in supporting the future of our sector via training and supervision. She has taught a range of community services course over the past 14 years and loves to impart her knowledge with others. In addition, Kim is an accredited Mental Health Trainer, a consultant of Adult Education curriculum and a writer. 
Kim loves online teaching and looks forward to working with her students to increase their knowledge and outcomes.