Facilitator and Assessor
Certificate IV in Training and Assessment
---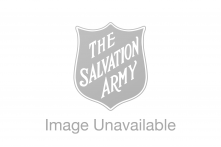 Major Christine Pickens has been a Salvation Army Officer for over 30 years in a variety of ministries in corps and social work. Over the last 16 years the focus of her work has been in the Emergency Relief sector and in delivering training.
In 2004-2006 Christine worked out of the Waverley / Oakleigh Salvation Army as the welfare worker, commenced the welfare work for the Salvation Army at Noble Park, then line managed Oakleigh and Latrobe Community Support Service until 2010 while delivering the Positive Lifestyle Program and Emergency Relief Training.
Christine was a founding representative of the Tri Territorial Positive Lifestyle Program working party up until 2019. In the last 9 years Christine's role has moved more into training and she is passionate about ensuring all staff and volunteers are equipped to work in these specialised fields. She delivers a variety of training programs and workshops from Emergency Relief Training, Mental Health First Aid, Assess co-existing needs, Chaplaincy, Managing Aggressive and Potentially Aggressive People, Positive Lifestyle Program.
Her training has taken her too many States/Territories in Australia along with an invitation in 2008 and 2013 to New Zealand and 2015 to Korea to deliver the Positive Lifestyle Program.  Christine delivers training for both The Salvation Army and external organisations.
For the last 6 years Christine has been delivering MHFA to 4th year Pharmacy Students at Monash University in Melbourne. In 2015 Christine was appointed to the former Catherine Booth College now Eva Burrows College in the School for Learning and Development as a Consultant with responsibilities in Social Program training and responsible for the Positive Lifestyle Program for the Australian Southern Territory.
Today Christine is still part of Eva Burrows College Vocational Training Stream and continues to deliver a variety of different accredited and non-accredited training programs and is responsible for Positive Lifestyle Program Trainers across Australia.
Christine is married to Trevor and they have 3 adult children, Hannasha, Rachael and Tobias.