2021 Ordination and Commissioning
Date: Saturday 4 December, 7pm
Location: Online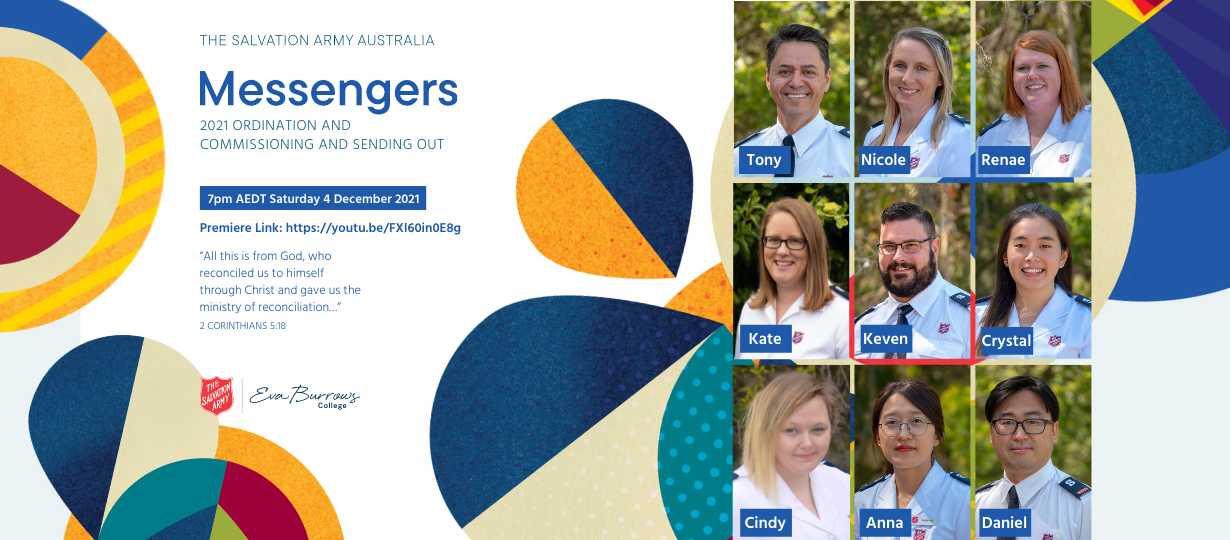 Celebrating nine new lieutenants
This year we celebrated the Ordination and Commissioning and Sending Out of 9 new lieutenants from all over Australia. Having completed their training in varying ways this event will celebrate them and their readiness to take up an appointment within The Salvation Army.
Anthony Bezzina and Nicole Bezzina from Miller Corps, NSW
Appointed to Corps Officer, Forster Tuncurry Corps, NSW
Read their story here >
Renae Phillips from Adelaide Congress Hall, SA
Appointed to Corps Officer, Murray Bridge Corps, SA
Read her story here >
Kate Clifford from Clarence City Corps, TAS
Appointed to Corps Officer, Clarence City Corps, TAS
Read her story here >
Keven Williams from Fairfield Corps, NSW
Appointed to Corps Officer, Eastern Beaches Corps, NSW
Read his story here >
Crystal Lee from Rockingham Corps and Perth Fortress Corps, WA
Appointed to Corps Officer - Team Member, Mandurah Corps, WA
Read her story here >
Cindy Roehrig from Ballarat Corps, VIC
Appointed to Corps Officer, Inverell Corps, NSW
Read her story here >
Anna Kim and Daniel Jang from Belmore Corps, NSW
Appointed to Corps Officer - Team Member, Belmore Corps, NSW
Read their story here >
---
Once again, Ordination and Commissioning in Australia will be online in 2021 as our cadets are dispersed around the country and unable to gather in one location. Nevertheless, these are significant events and we will mark them in both sacred and joyous ways.

We invite you to participate in the online premiere of Ordination and Commissioning by clicking on the video link below where you will be able to view the 2021 Ordination and Commissioning and Sending Out of the Messengers.
---
Read 2021 Ordination and Commissioning Brochure Below
---
Call to Prayer

Like Christmas and Easter, Commissioning is one of those events in the life of The Salvation Army that rolls around every year. Unlike Christmas and Easter, however, for those being commissioned it is a once in a lifetime event; a moment of sacred covenant marking the conclusion of training and entry into the vocation of officership.
I remember my own covenant day. In some ways it feels ironic that we met in the basement chapel at the training college in Royal Parade. In that windowless and cloistered environment, we promised that we would go out into the world and do our best to 'win souls' and meet human need. What strikes me today as I think back is the contrast between the quiet reverence we shared in those moments of covenant, and the often loud and chaotic world of ministry we were to discover, where wonderful people and their messy needs brought a very different kind of reverence. I realise how much I have come to appreciate both the experience of solitude; the quiet stillness where I sense the closeness of God, and the rich experience of being with people in all their frailty and knowing the closeness of God through love and compassion. Solitude and communion knit together somehow and reveal the depth and the breadth of God's love for us and for the whole world.
For those Messengers who will soon be commissioned, find your cloistered spaces in the midst of the often-frantic world of ministry. There will be great days, and there will be tough days, but as you covenant to 'love, trust and serve God supremely all your days', my hope and my prayer is that your experience will bring you to the realisation over and over again that there is nothing else you would rather do.
Our Covenant Service is the first of our Commissioning gatherings next week on Thursday 25 November. It is a significant day in the lives of our soon-to-be-commissioned cadets as their homes become the sacred spaces in which they will sign their covenants, be ordained and commissioned and sent out to their new appointments. Please cover them with your prayers in the coming week.
---
Did you know?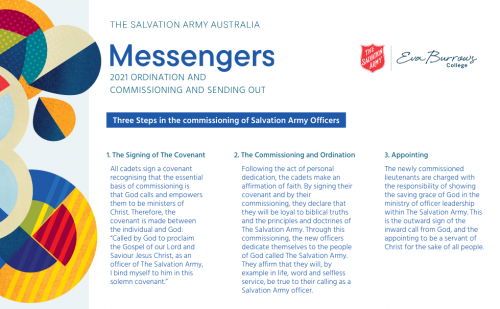 The days leading up to the 2021 Commissioning are significant for our cadets. They will take three important steps to mark the start of their lives as Salvation Army officers - the signing of covenant, ordination and commissioning, and appointing and sending out.
As they commit their lives to God in front of their families and church community, these are deeply meaningful events for officers, as Major Sandy MacDonald, Captain Andrew Walton and Major Emma Moore show by their reflections on their own ordination and commissioning. Read more here.