28 April 2022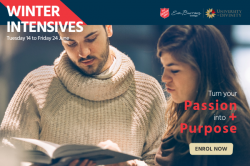 Thinking of studying but not sure where to start? At Eva Burrows College, you can study one or more units as an audit student to try out student life or for purposes of self-enrichment and academic exploration. 
EBC intensives usually run for two weeks and although done from the comfort of your home, it works best if you dedicate your time to studying for these two weeks. As the name suggests, it is a pretty intensive way to study with the benefit of freeing up your time throughout the rest of the semester.
We have two interesting intensives commencing in June: Social and Community Mission 1, which explores the theology and practice of social and community services as an expression of holistic Christian mission. Your lecturer for this intensive is the highly regarded Lt Colonel Dr Lyn Edge.
Introduction to Christian Theology uses the Salvation Army's eleven articles of faith as a framework to introduce you to the key areas of Christian theology. Your lecturer for this intensive is the lovely Major Emma Moore who will guide you through this foundational unit.
Click here for more information or contact our Registrar Norman at registrar@ebc.edu.au before 3 June 2022 to enrol in either upcoming intensive.