Leatherland Prize Awarded to Captain Adam Couchman
23 January 2019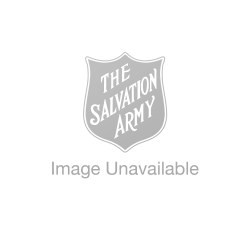 The University of Divinity in partnership with the Australian Academy of Liturgy awarded the 2018 Leatherland Prize to Captain Adam Couchman (PhD student, Eva Burrows College). A prize well deserved, after many years of research in liturgical studies.
Both a lecturer and alumni of Eva Burrows College; Adam completed his undergraduate degree through the college in 2005. His honours studies, through Charles Sturt University, saw him research the sacramental theology of The Salvation Army and his Masters studies in Christian Holiness were completed with distinction through the Nazarene Theological College in Manchester, UK.
Currently working towards his Doctor of Philosophy through the University of Divinity, Adam's research is engaged in theological interpretation of Scripture; specifically the worship of Jesus Christ himself.
Commissioned as an officer, along with his wife Megan, in November 2003, and since then he has been Corps Officer at Armidale Corps (NSW), Gosford Corps (NSW) and is currently a Lecturer at Eva Burrows College and Assistant Corps Office, Box Hill.
The Citation for the award
In his essay, 'Performing in the Theodrama; a Theocentric Vision of Christian Worship', Adam Couchman draws on the work of Adrienne von Speyr in conversation with James Torrance and Kevin Vanhoozer to explore what it is for worship to be at the heart of the Trinity.
Beginning with the question of what it is for Jesus to be a worshipper, Couchman addresses questions around the relationship between prayer and worship, and how doctrine is enacted through liturgical action, to offer a definition of worship as a theocentric drama that unfolds the inner life of the Trinity in the daily prayer and worship of the Church. Couchman argues that:
"Christian worship is an ongoing, theodramatic performance of the eternal glorification of God that is already taking place within the Trinity. It is made possible through the High Priesthood of Christ and effective to us by the presence of the Holy Spirit. It is centred upon the worship of Jesus Christ as revealed in the canon of Scripture and yet the theodrama is extended into new contexts every day through faithful improvisation."
The examiners remarked on Couchman's fresh approach, observing how 'it was particularly satisfying to see classical Chalcedonian doctrine - and that very well understood - closely integrated with liturgical analysis.'
About the Leatherland Prize
The Leatherland Prize was established to honour the memory of the Rev Dr Harold F Leatherland, a prominent Australian liturgical scholar, by supporting scholarly engagement with liturgical studies.