2022 Vocational Training Information Sessions
Date: 19th January 2022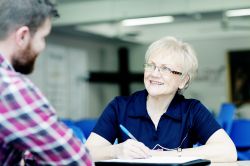 Do you want to make a difference in the community? Are you motivated by helping people overcome hardship and injustice?
Most importantly, are you ready to turn your passion into a life-changing and rewarding career?
Eva Burrows College Vocational Training is accredited to deliver training services that focus on providing practical skills for your career. Many of our courses combine practical experience and knowledge with work placements. Learn from our experts with real-world experience and gain a nationally recognised accreditation to turn your Passion into Your Profession!
Check out the Information Sessions below:
January
19/01 – Diploma of Chaplaincy (Melbourne)
19/01 – Chaplaincy Foundations
February
02/02 - Diploma of Financial Counselling
09/02 - Diploma of Alcohol and Other Drugs
March
08/03 - Diploma of Community Services
09/03 - Diploma of Leadership and Management
June
22/06 - Diploma of Chaplaincy (Sydney)
To register your interest email vtoenquiries@ebc.edu.au.